1st Lady LaRon C. Howard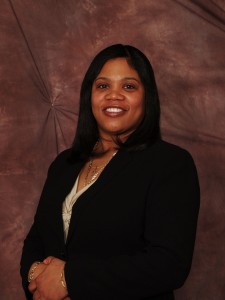 LaRon C. Howard was born on October 15, 1972 to Ronald Adams and Lela Price in Washington DC. She graduated from Paul Laurence Dunbar Sr. High School in 1990. She attended Drexel University in the pursuit of a degree in engineering, but later changed her major to accounting. She was scheduled to complete her degree in 1995, but that didn't happen. Instead of returning home with a degree, she returned home with a baby on the way. She learned two valuable lessons from her college experience. The first being, if you are not doing it God's way then you are wasting your time and the second being don't live your life to please people.
LaRon was a member of the Way of the Cross Church for 31 years. Growing up she was very active in her church. A few of her activities included being a part of the usher board, Girl Scouts, singing on all the youth choirs, and was a member of the Youth for Christ. Upon returning home from college she became involved in her church again. There was one ministry in particular that she was a part of that put her life on a different path, the Single's Ministry.
On May 2, 1997, LaRon would marry then Minister Bernard Howard who was in charge of the Single's Ministry. In November of 2002, LaRon was asked by the director of the Youth for Christ choir to fill in for 2 months as the director. LaRon accepted the duty of being the director, despite having apprehensions.  Although she sang on the choir as long as she could remember, directing was a whole new arena.  Little did LaRon know that those 2 months would turn into a year. The Lord was preparing her for leadership. On October 5, 2003 a transition took place. LaRon's membership changed to Sanctuary of Praise Way of the Cross Church, where her husband, Elder Bernard A. Howard is the Pastor.
Together, Pastor and Lady Howard manages to raise five children, ranging from a 1st grader to a college freshman.  Lady Howard is the epitome of a superwoman.  She assists in all aspects of the ministry and manages to hold a full time job. She has even launched her own business by becoming a Traci Lynn Fashion Jewelry Partner.   Lady Howard also finds time to do what she loves, knit and crochet while at her children's practices and games.
In August of 2007 LaRon decided to finish what she started she reenrolled into Drexel University.  The Lord worked it out so that the remaining courses that she needed to take could be done online.  It was a true sacrifice and difficult at times juggling family, church, work and school. She graduated in March 2008 with her Bachelors of Science degree from Drexel University.
1st Lady LaRon has grown tremendously with the help of the Holy Ghost. Lady Howard currently spearheads the Daughters on the Wall Ministry which is a group of young single women ranging from ages 18 – 35.  She teaches about spiritual and practical daily living.  She has even stepped out of her comfort zone and teaches bible studies.  She is also one of Sanctuary of Praise's praise and worship leaders.
Lady Howard is grateful the Lord has chosen her to be the 1st Lady of Sanctuary of Praise, a wife, mother and a Godly example to all that are watching.
Visit My Blog – www.ladylaron.wordpress.com